2022-09-30
Foil slitter helping to optimize the material flow at Spaljisten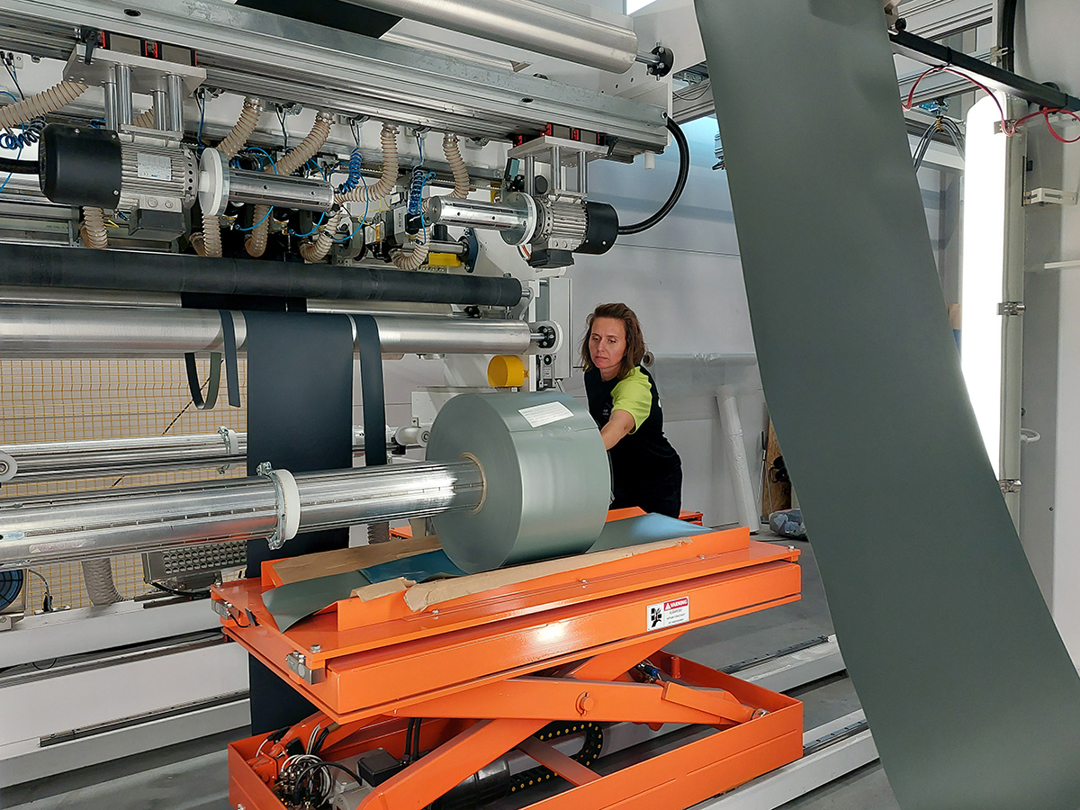 Machine operator Barbara is handling a foil roll that has been cut into size.
Spaljisten's highly automated production facility in Åseda, Småland, is in continuous development. We have ambitious goals and work for more innovative solutions to take our production to the next level.
One of the latest innovations in Spaljisten is a foil cutter that has been supplied to us from Cattorini in Italy. An industry-specific machine that we can greatly benefit from.
So, why this machine? The improvement lies mainly in the fact that we now can buy parent rolls of foil. That is foil rolls in full format, instead of rolls in various pre-cut sizes as until now. Thereafter, we cut them down to sizes that fit our different lines. It is an advancement in our daily work that increases flexibility, reduces costs, and contributes to further optimization of the material flow in the factory. By working with internal orders instead of external ones, we can act immediately and get the correct format delivered to the machine faster. At the same time, we reduce the number of different types of foil rolls we need to buy, and it becomes easier to ensure the correct stock.
As a part of the project, we are also installing industrial manipulators and hoists – lifting devices that make work even more efficient. These make handling foil rolls easier for our employees and contribute to a faster workflow.
The installation of the foil slitter is part of a larger investment and innovation plan. The increased flexibility will primarily supply the new HGL II foil wrapping line.
We believe that keeping a lively culture of innovation is important to continuously streamline our processes and reduce our climate footprint. As a next step in the project, we are drafting a comprehensive system for handling residual products. We want to be able to separate the different types of foil automatically to enable more efficient recycling. We will continue to challenge ourselves to get better and do better.
This combined with our skilled team makes Spaljisten a top-class international supplier of foiled products.
NEWS
---

2022-11-29
Adam Airosto takes over as the new CEO of Spaljisten
Adam Airosto starts as the new CEO of Spaljisten AB. With extensive experience in leading roles in the manufacturing industry, he takes on the role of CEO of Spaljisten with the task of leading and driving the company's continued development with the vision of being a world-class front manufacturer with the next generation in mind.

2022-11-03
A puzzle piece in sustainability work and confidence in the future
For half a year now, Sofie Åkerberg has been working as Sustainability Manager at Spaljisten. She entered on a wave of new energy and dived straight into the world of wood, chipboard and foil wrapping. It is a broad role that she has taken on – seeing over matters of work environment, safety, and sustainability, as well as improvements in all these areas.

2022-05-30
We care - Spaljisten's Sustainability Report 2021
Spaljisten now presents the Sustainability Report for 2021. The Sustainability Report presents our development over the past year and explains how we work with sustainability in our operations.

2022-03-03
Successful collaboration in automation - Gladpack packing line inaugurated by Spaljisten and Automationsteknik
After an intensive project work of several years in collaboration between Spaljisten and Automationsteknik, the world-unique packing line Gladpack is inaugurated in Spaljisten's facility in Åseda on March 2!

2021-11-17
The big picture and people behind the numbers
Malin Kirejs Hellbjer has been working with everything that has to do with finances at Spaljisten for a year now. How has her first year in Spaljisten been and what excites her in her work and life?

2021-10-10
Our products endure most things in life
Sustainability is close to our hearts at Spaljisten – a work that never ends. We aim higher and work for more innovative solutions to reach the next level in our production.

2021-09-29
Change of CEO at Spaljisten AB
Florim Albborn will end his employment as the CEO of Spaljisten AB. The Board has appointed Fabio Pedrazzi as the new CEO of Spaljisten AB.

2021-08-13
Innovative solutions and some aces up the sleeve
We find solutions that combine the customer's interest and needs with the conditions that exist in the production and in the materials we use.

2021-07-26
Handleless furniture fronts
We will continue to develop Spaljisten and launch our ambitious plans for 2022-2026. This involves the expansion of our factory areas in Åseda, new lines for foiling with J-profiling, edge processing, internal logistics and packaging, innovations, sustainable materials and of course – further product development.

2021-06-21
We care - Spaljistens Sustainability report 2020
Spaljisten now presents the sustainability report with the combined financial report for 2020. The Sustainability Report explains our development over the past year and clarifies how we work actively with sustainability in our operations.