2021-10-10
Our products endure most things in life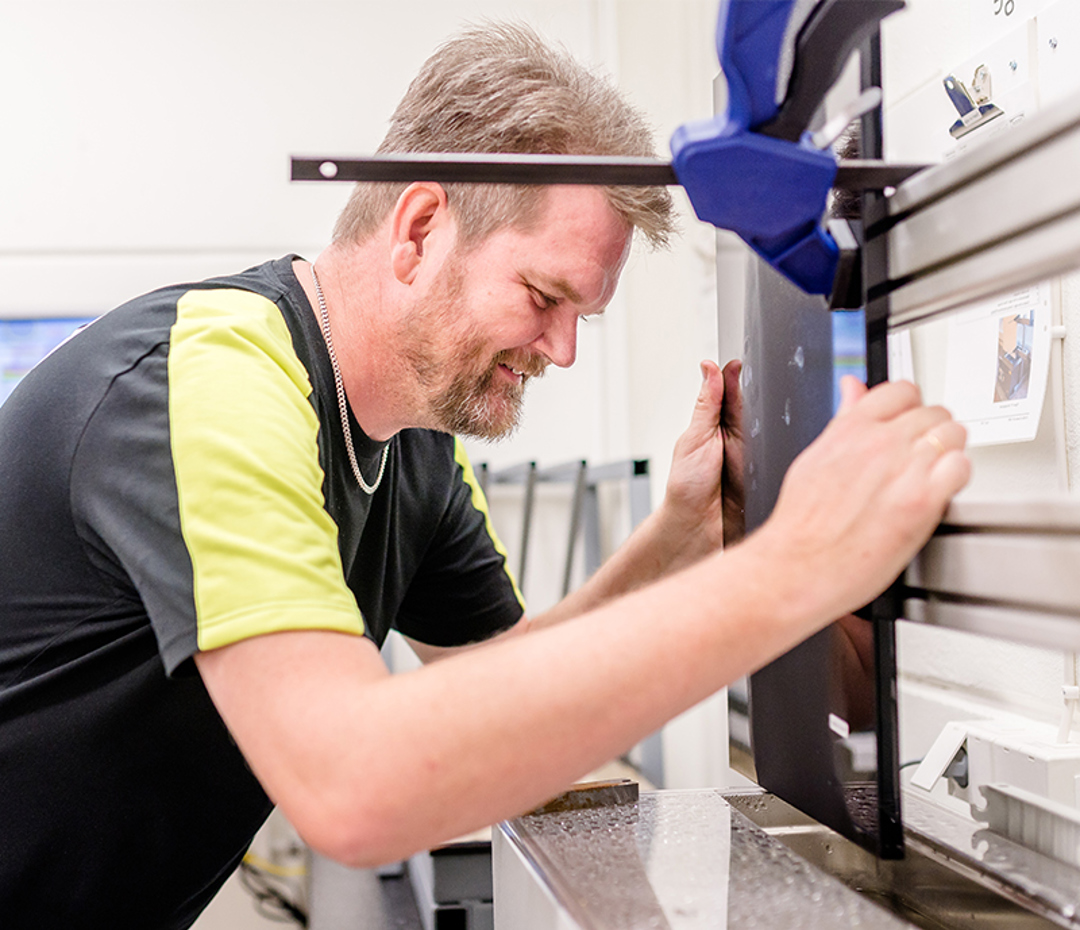 Carl-Magnus makes sure that the quality is on top.
Sustainability is close to our hearts at Spaljisten – a work that never ends. We aim higher and work for more innovative solutions to reach the next level in our production.
We challenge ourselves to get better and do better daily. There are many aids for us to be able to guarantee good quality and minimize production errors in our highly automatic production facility. But how do we test quality over time? Indeed, in our very own lab.
Quality Controller Carl-Magnus Lundin performs everything from controls on incoming material to ensure the right shade on the foil, to collecting samples and running lab tests to ensure the quality of the end product in each batch. Thanks to this, any production defects are discovered in time before the product is packaged.
With a guarantee of up to 25 years for the end consumer, high demands are placed on our products. As it should be since quality and durability go hand in hand. Therefore, the products also undergo annual tests performed by third-party actors. For instance, mechanical tests where kitchen doors get tested for as many as 200 000 opening and closing cycles.
A foiled kitchen door is tested for resistance to water, heat, steam, coffee, oil, and alcohol in our laboratory.
- It is important to know that our products are able to withstand the stresses to which they may be exposed to. In the lab, we can test how a product tolerates heat, steam, and moisture over longer periods. Our climate chamber tests can last for five weeks. During this time, we obtain extremely valuable information, says Carl-Magnus Lundin, Quality Controller at Spaljisten AB
However, the entire responsibility lies not only with one person, but the production team is involved in continuous inspections on the production lines.
Our customer requirements push us to constantly evolve and improve. That keeps the innovation culture alive through time as we produce more sustainable materials and improve work processes to reduce our climate footprint.
NEWS
---

2022-09-30
Foil slitter helping to optimize the material flow at Spaljisten
Spaljisten's highly automated production facility in Åseda, Småland, is in continuous development. One of the latest innovations in Spaljisten is a foil cutter, an industry-specific machine that we can greatly benefit from.

2022-05-30
We care - Spaljisten's Sustainability Report 2021
Spaljisten now presents the Sustainability Report for 2021. The Sustainability Report presents our development over the past year and explains how we work with sustainability in our operations.

2022-03-03
Successful collaboration in automation - Gladpack packing line inaugurated by Spaljisten and Automationsteknik
After an intensive project work of several years in collaboration between Spaljisten and Automationsteknik, the world-unique packing line Gladpack is inaugurated in Spaljisten's facility in Åseda on March 2!

2021-11-17
The big picture and people behind the numbers
Malin Kirejs Hellbjer has been working with everything that has to do with finances at Spaljisten for a year now. How has her first year in Spaljisten been and what excites her in her work and life?

2021-09-29
Change of CEO at Spaljisten AB
Florim Albborn will end his employment as the CEO of Spaljisten AB. The Board has appointed Fabio Pedrazzi as the new CEO of Spaljisten AB.

2021-08-13
Innovative solutions and some aces up the sleeve
We find solutions that combine the customer's interest and needs with the conditions that exist in the production and in the materials we use.

2021-07-26
Handleless furniture fronts
We will continue to develop Spaljisten and launch our ambitious plans for 2022-2026. This involves the expansion of our factory areas in Åseda, new lines for foiling with J-profiling, edge processing, internal logistics and packaging, innovations, sustainable materials and of course – further product development.

2021-06-21
We care - Spaljistens Sustainability report 2020
Spaljisten now presents the sustainability report with the combined financial report for 2020. The Sustainability Report explains our development over the past year and clarifies how we work actively with sustainability in our operations.

2021-05-07
He speaks the customer voice
This past year has really tried us. The world changed rapidly over night, and much will forever be transformed. We do all need to cross through outer circumstances at regular basis and this is exactly what belongs to Ulf's everyday work. With an agile mindset he set new targets and goals.

2021-03-28
Thinner, Lighter & Recycled - Sustainability the new normal
The starting point for the project was in 2019, Spaljistens global leading furniture customer were asking for a new "green" kitchen front and where all materials should have a share of minimum 50% recycled content.