2020-09-03
Spaljisten choose Granflo Bygg AB to build a production facility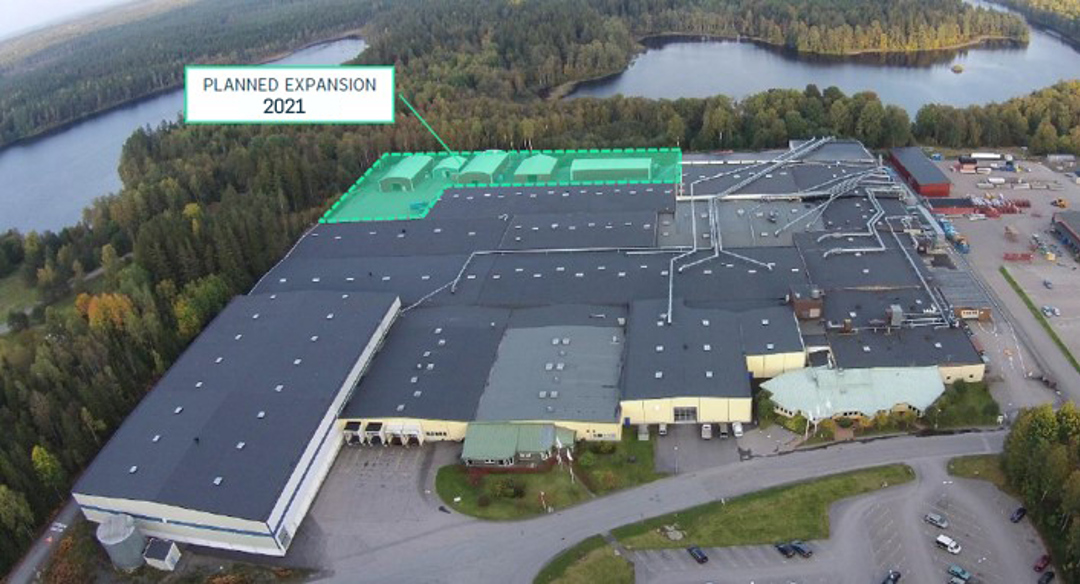 Spaljisten expands and gives the confidence to Granflo Bygg AB to build a modern production facility.
Spaljisten continues to invest in the future and now by expanding its premises from 35,000 to 41,500 sq.m. Granflo Bygg AB is entrusted with building a new modern production facility.
The project is part of Spaljisten's large investment plan to greatly expand its capacity and capability. The goal of the investment plan is to further strengthen Spaljisten's position as one of the world's leading manufacturers of fronts for the kitchen and furniture industry. The project starts now, and the new production facility is ready for occupation in March 2021.
The investment is made in collaboration with Niam AB, which acquired Spaljisten's premises in October 2019.
– Granflo Bygg AB has been part of Spaljisten's successful journey almost from the beginning. We are expanding and increasing our capacity and capability in the production facility where our ambition is to develop and bring in new customers and gain market shares. We must continue to invest and develop in order to continue to be a world-class furniture front manufacturer. For that, ultramodern premises are needed" says Florim Albborn, CEO of Spaljisten.
– Spaljisten's long-term relationship with Granflo Bygg continues, which we are proud of. Spaljisten and Granflo Bygg have over the years shown that we are both able to be competitive in each business areas. The fact that Spaljisten in its development continues to use Granflo Bygg shows that we have a high level of competence within the organization" says Jimmi Olsson, CEO of Granflo Bygg AB.
About the project
–"In order to be able to install and commission a new foiling line, expanded production and storage areas are required. A new production hall will be built east of the current production hall and new warehouse buildings north of the new production hall. During the design period, staff from Granflo Bygg have been actively involved and given us excellent support. The new premises are expected to be completed in March 2021. " says Tomas Lundberg, project manager at Spaljisten.
–"We at Granflo Bygg appreciate Spaljisten's way of working where we sit down at an early stage to find optimal solutions together." says Christer Karlsson, project manager at Granflo Bygg AB.
About Spaljisten AB
Spaljisten's core competence is so-called sheathing, ie applying a foil to different types of board material. Spaljisten manufactures everything from simpler- to more complex furniture fronts in very large volumes to the highest quality requirements.
Spaljisten was founded in 1975 in Åseda, Småland and have 150 employees today and had a turnover of SEK 565 million in 2019 on a production area of approximately 35,000 m2. Spaljisten AB en is part of Surewood Industries AB, which is part of the Active Invest Group with headquarters in Stockholm.
About Granflo Bygg AB
Granflo Bygg are a complete construction company that performs everything from design to completion. We have grown steadily from the start in 1978 and have about 65 employees and a turnover of about 240 million in 2019. We perform all types of contracts and construction services for the most part to companies, property owners, and public administration. Granflo Bygg work mainly in Kronoberg, Kalmar and Jönköping counties. But also carries out contracts on request all around the country.
For more information, visit us at:https://granflobygg.se
About Niam AB
Niam was founded in 1998 and is today one of the Nordic region's largest private property owners. Niam takes pride in being a good partner for our tenants, investors and the local community. Niam has more than 65 employees with offices in Stockholm, Helsinki, Oslo, Copenhagen and Luxembourg.
For more information, visit us at: www.niam.se
NEWS
---

2022-11-29
Adam Airosto takes over as the new CEO of Spaljisten
Adam Airosto starts as the new CEO of Spaljisten AB. With extensive experience in leading roles in the manufacturing industry, he takes on the role of CEO of Spaljisten with the task of leading and driving the company's continued development with the vision of being a world-class front manufacturer with the next generation in mind.

2022-11-03
A puzzle piece in sustainability work and confidence in the future
For half a year now, Sofie Åkerberg has been working as Sustainability Manager at Spaljisten. She entered on a wave of new energy and dived straight into the world of wood, chipboard and foil wrapping. It is a broad role that she has taken on – seeing over matters of work environment, safety, and sustainability, as well as improvements in all these areas.

2022-09-30
Foil slitter helping to optimize the material flow at Spaljisten
Spaljisten's highly automated production facility in Åseda, Småland, is in continuous development. One of the latest innovations in Spaljisten is a foil cutter, an industry-specific machine that we can greatly benefit from.

2022-05-30
We care - Spaljisten's Sustainability Report 2021
Spaljisten now presents the Sustainability Report for 2021. The Sustainability Report presents our development over the past year and explains how we work with sustainability in our operations.

2022-03-03
Successful collaboration in automation - Gladpack packing line inaugurated by Spaljisten and Automationsteknik
After an intensive project work of several years in collaboration between Spaljisten and Automationsteknik, the world-unique packing line Gladpack is inaugurated in Spaljisten's facility in Åseda on March 2!

2021-11-17
The big picture and people behind the numbers
Malin Kirejs Hellbjer has been working with everything that has to do with finances at Spaljisten for a year now. How has her first year in Spaljisten been and what excites her in her work and life?

2021-10-10
Our products endure most things in life
Sustainability is close to our hearts at Spaljisten – a work that never ends. We aim higher and work for more innovative solutions to reach the next level in our production.

2021-09-29
Change of CEO at Spaljisten AB
Florim Albborn will end his employment as the CEO of Spaljisten AB. The Board has appointed Fabio Pedrazzi as the new CEO of Spaljisten AB.

2021-08-13
Innovative solutions and some aces up the sleeve
We find solutions that combine the customer's interest and needs with the conditions that exist in the production and in the materials we use.

2021-07-26
Handleless furniture fronts
We will continue to develop Spaljisten and launch our ambitious plans for 2022-2026. This involves the expansion of our factory areas in Åseda, new lines for foiling with J-profiling, edge processing, internal logistics and packaging, innovations, sustainable materials and of course – further product development.