2020-09-15
Spaljisten collaborates with TEXO in new automated logistics solutions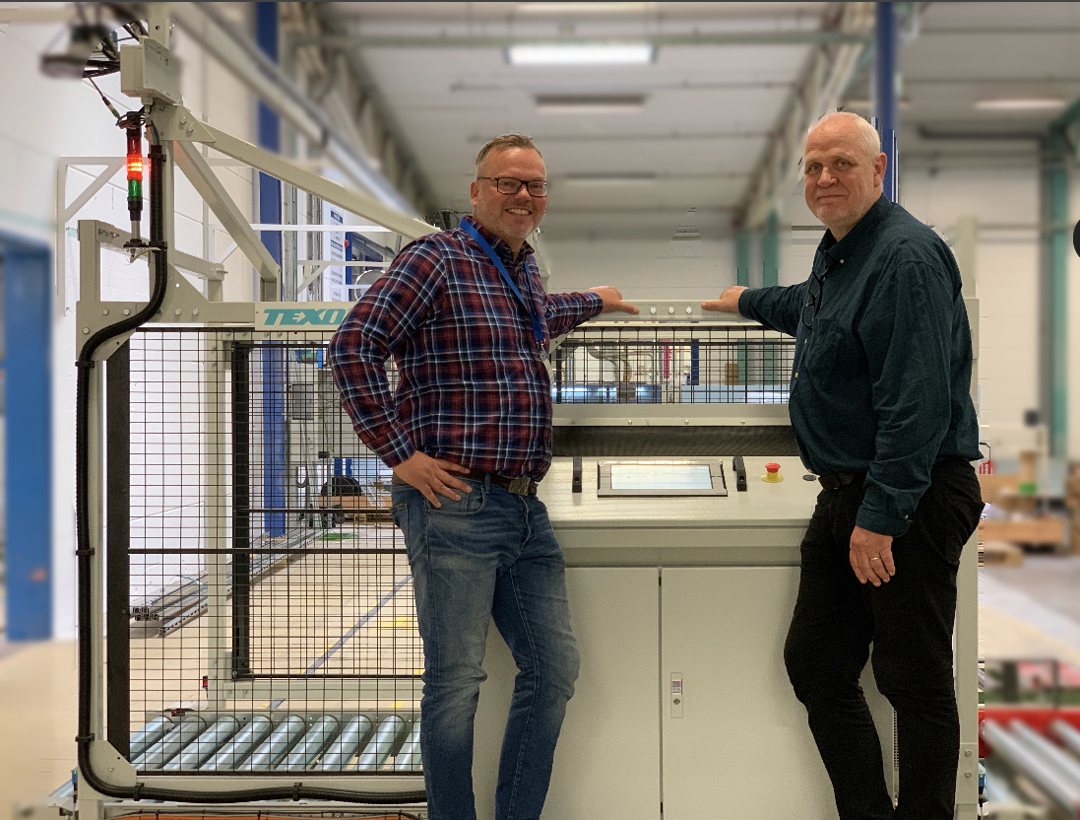 The picture shows Johan Fröberg, Key Account Manager on Texo och Tomas Lundberg, Projectleader on Splajisten.
Spaljisten in collaboration with TEXO continues its automation journey in the factory in Åseda with new logistics solutions.
Spaljisten has placed orders for new automated logistics solutions for handling large volumes in the factory in Åseda and has signed an agreement with TEXO from Älmhult. Together with TEXO, we have developed very good solutions for moving large volumes internally in the factory with safety and durability in mind.
The project is part of Spaljisten's large investment plan to greatly expand its capacity and capability. The goal of the investment plan is to further strengthen Spaljisten's position as one of the world's leading manufacturers of fronts for the kitchen and furniture industry. The project will be implemented during 2020.
– The collaboration with TEXO is long and successful. In 2019, stage 1 of the project was completed with an order value of SEK 3 million. Step 2 of the project will be implemented in 2020 to an order value of SEK 14 million, while step 3 will be projected in the autumn for implementation in 2021, " says Florim Albborn, CEO for Spaljisten.
–We are very happy about the trust that Spaljisten has given us for the further development of their internal logistics. With great automation in our systems, this is proof that we can help Spaljisten achieve even better efficiency and profitability in its operations. For TEXO, this strengthens the order backlog in this problematic time of Corona pademic. Its extra fun that we normally have a large export share in our projects but we can now deliver locally in Småland! Together with Spaljisten, we see future potential steps forward in their development. " says Anders Svensson, CEO for TEXO AB.

About the  project
–By automating our flows in the freight department, we can reduce the burden on operators so that they can put more focus on monitoring the process. And that we improve the working environment by removing manual handling of goods. Furthermore, we are also preparing so that it will be easy to expand the inventory system for future investments. " says Tomas Lundberg, projectleader for Spaljisten.
–It feels good to help Spaljisten increase the degree of automation with more efficient production flows at the same time as we improve the safety and ergonomics for their operators. All our delivered components and units, including software, are customized and tailored to Spaljisten's wishes. As this is a project that extends over several years, we implement different parts of the production in the same system step by step. There, our scalable and expandable concept fits perfectly and Spaljisten can grow with us at its own pace. " says Johan Fröberg, Key Account Manager on TEXO.
About Spaljisten AB
Spaljisten's core competence is so-called sheathing, ie applying a foil to different types of board material. Spaljisten manufactures everything from simpler- to more complex furniture fronts in very large volumes to the highest quality requirements.
Spaljisten was founded in 1975 in Åseda, Småland and have 150 employees today and had a turnover of SEK 565 million in 2019 on a production area of approximately 35,000 m2. Spaljisten AB en is part of Surewood Industries AB, which is part of the Active Invest Group with headquarters in Stockholm.
About TEXO
TEXO was founded in 1943 and is an international leading manufacturer of industrial weaving machines and automated material handling systems for internal logistics.
TEXO's solutions are customized, tailored and intelligent as well as cost-effective products that increase customer productivity.
As an international company, TEXO today has customers and partners all over the world. We currently have about 50 employees at the head office in Älmhult and about 10 employees at our subsidiaries in the USA and China.
For more information, visit: www.texo.se
NEWS
---

2023-08-28
We care - Spaljisten's Sustainability Report 2022
Spaljisten is glad to present our Sustainability Report for 2022. The Sustainability Report presents our development over the past year and explains how we work with sustainability in our operations.

2023-04-20
Get to know the Spaljisten production - automated corrugated pallet line
Welcome in to our highly automated production facility! Since 2018, we have a corrugated pallet line for packing furniture fronts on corrugated pallets, i.e. extra light pallets made of corrugated cardboard. As is the standard in our production in Åseda - this process is of course automated.

2023-03-30
Start of Production on the HGL II line
Spaljisten has reached the SOP milestone with the new foil wrapping line HGL II from HOMAG. It is a substantial milestone in the project which means the production line can now officially be used for manufacturing foiled fronts.

2022-12-12
Training in Society-Oriented Professional Swedish
Our employees are our most important resource. We strive for everyone to have the right conditions to thrive, succeed and develop at their job. One way we work to increase diversity in the workplace is that we offer language training in Professional Swedish.

2022-11-29
Adam Airosto takes over as the new CEO of Spaljisten
Adam Airosto starts as the new CEO of Spaljisten AB. With extensive experience in leading roles in the manufacturing industry, he takes on the role of CEO of Spaljisten with the task of leading and driving the company's continued development with the vision of being a world-class front manufacturer with the next generation in mind.

2022-11-03
A puzzle piece in sustainability work and confidence in the future
For half a year now, Sofie Åkerberg has been working as Sustainability Manager at Spaljisten. She entered on a wave of new energy and dived straight into the world of wood, chipboard and foil wrapping. It is a broad role that she has taken on – seeing over matters of work environment, safety, and sustainability, as well as improvements in all these areas.

2022-09-30
Foil slitter helping to optimize the material flow at Spaljisten
Spaljisten's highly automated production facility in Åseda, Småland, is in continuous development. One of the latest innovations in Spaljisten is a foil cutter, an industry-specific machine that we can greatly benefit from.

2022-05-30
We care - Spaljisten's Sustainability Report 2021
Spaljisten now presents the Sustainability Report for 2021. The Sustainability Report presents our development over the past year and explains how we work with sustainability in our operations.

2022-03-03
Successful collaboration in automation - Gladpack packing line inaugurated by Spaljisten and Automationsteknik
After an intensive project work of several years in collaboration between Spaljisten and Automationsteknik, the world-unique packing line Gladpack is inaugurated in Spaljisten's facility in Åseda on March 2!

2021-11-17
The big picture and people behind the numbers
Malin Kirejs Hellbjer has been working with everything that has to do with finances at Spaljisten for a year now. How has her first year in Spaljisten been and what excites her in her work and life?