2019-09-27
Spaljisten wins employer award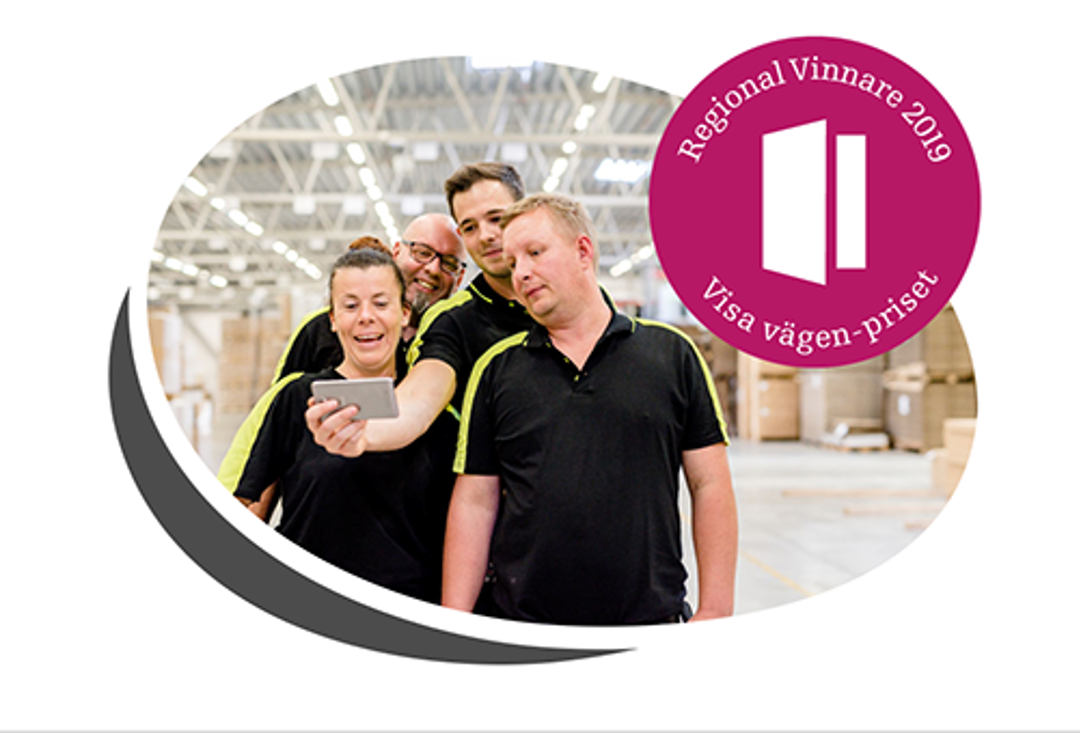 Spaljisten has reached a new milestone in its efforts to promote a more inclusive labour market with less inequality! We have been named Employer of the Year 2019 in our region in what is considered Sweden's most important labour market award, Visa vägen-priset (the 'Show the Way Award'). This is an award to honour employers who actively work to eradicate exclusion and create inclusive workplaces that benefit individuals, businesses and society alike. This is also in line with the UN's sustainable development goals (SDGs), as reducing inequality is one of them (SDG 10).
The work is ongoing and a core component of Spaljisten's operations, regardless of whether there are awards or prizes to be won. However, now that Visa vägen-priset has been bestowed upon us, it affords us the opportunity to highlight and underline trade and industry's responsibility and influence, in both reducing inequality and giving individuals the opportunity to earn a living in the labour market.
We hereby invite you to share our joy and participate in the discourse on how together we can continue our efforts to eradicate exclusion in the labour market at PM & Vänner in Växjö on 10 October! You can register to attend at https://visavagen.samhall.se/turne/vaxjo/. And why not follow us and the other regional winners from across Sweden at the upcoming final to be held in Stockholm on 25 November!
NEWS
---

2021-11-17
The big picture and people behind the numbers
Malin Kirejs Hellbjer has been working with everything that has to do with finances at Spaljisten for a year now. How has her first year in Spaljisten been and what excites her in her work and life?

2021-10-10
Our products endure most things in life
Sustainability is close to our hearts at Spaljisten – a work that never ends. We aim higher and work for more innovative solutions to reach the next level in our production.

2021-09-29
Change of CEO at Spaljisten AB
Florim Albborn will end his employment as the CEO of Spaljisten AB. The Board has appointed Fabio Pedrazzi as the new CEO of Spaljisten AB.

2021-08-13
Innovative solutions and some aces up the sleeve
We find solutions that combine the customer's interest and needs with the conditions that exist in the production and in the materials we use.

2021-07-26
Handleless furniture fronts
We will continue to develop Spaljisten and launch our ambitious plans for 2022-2026. This involves the expansion of our factory areas in Åseda, new lines for foiling with J-profiling, edge processing, internal logistics and packaging, innovations, sustainable materials and of course – further product development.

2021-06-21
We care - Spaljistens Sustainability report 2020
Spaljisten now presents the sustainability report with the combined financial report for 2020. The Sustainability Report explains our development over the past year and clarifies how we work actively with sustainability in our operations.

2021-05-07
He speaks the customer voice
This past year has really tried us. The world changed rapidly over night, and much will forever be transformed. We do all need to cross through outer circumstances at regular basis and this is exactly what belongs to Ulf's everyday work. With an agile mindset he set new targets and goals.

2021-03-28
Thinner, Lighter & Recycled - Sustainability the new normal
The starting point for the project was in 2019, Spaljistens global leading furniture customer were asking for a new "green" kitchen front and where all materials should have a share of minimum 50% recycled content.

2021-02-25
At Spaljisten quality is a top priority
High production pace demands multiple quality inspections throughout the manufacturing process. From the beginning to the end, all steps are important for a perfect result.

2021-02-12
These fingers feels the quality
This year he has worked at Spaljisten for a full 35 years. A lot has changed since then but some things have remained the same, we still produce fronts for kitchens.