2020-02-07
VR (Virtual Reality) provides important decision support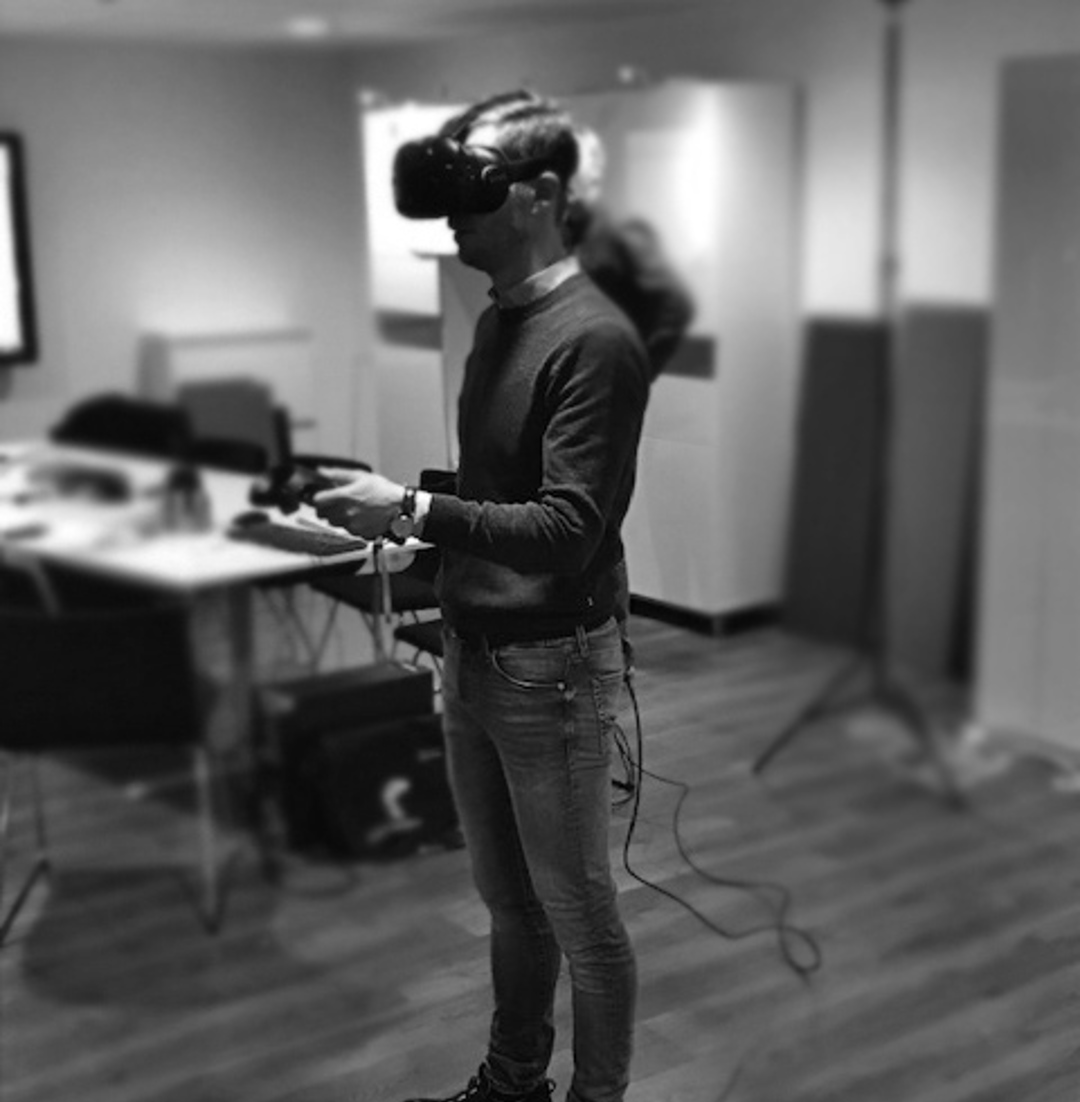 We had a VR presentation of a machine prototype for management, project group and mechanical engineers.
This week, there were exciting things happening at our factory in Åseda. We had a VR presentation of a machine prototype for management, project group and mechanical engineers. We got the chance to have a seek peek of a brand new packing machine that would radically streamline our packing processes, which would mean that we can run much larger volumes on the same surface and increase our capacity. Even from a sustainability point of view, the machine delivers on top!
The project was born internally at Spaljisten and this led us to submit a request to a number of suppliers. After reviewing, Automationsteknik was chosen and had a key role to realize the idea.
The packaging machine will be able to repackage products more efficiently and we will meet new packaging requirements from our customers. It is designed to help us move forward in our quest to develop all our processes to 100% sustainable. The project also includes more traditional parts and tools such as 2D images, CAD drawings and descriptions of the machine. Using VR as part of the development work is new to us at Spaljisten but this is not the last time we will choose to work in this way.
– We see it as a great opportunity to have a look at the machine in a virtually reality, that gives us a chance to make further improvements before the machine is build and ready. Some things, such as how much space you need to easily move in the machine, or where you best place controls - becomes a completely different thing to discuss when you can actually be in it, says Tomas Lundberg, projectmanager.
The opportunity for a VR-presentation has been a major driving force of this project and has added a powerful tool to improve our machine development processes. During Wednesday's show, many were lyrical about the chance to see the machine from within and the general feeling from the colleagues was unanimously positive.
VR (Virtual Reality)
Virtual reality is a way to move into a computerized reality and which gives us a way to experience something that feels like real life.
The packing machine would automate the packing process considerably, which means a less staff-dependent process and we could then free up the labour force to other parts of the production. The whole packing process would go much faster and we could go from an average of 6-10 packages per minute to 15 per minute. This means that our machine will probably be the fastest in its class.
The packaging machine would also change the design of the packages, where we will completely stop using so-called "fillers" which fills up the inside and gives an extra protection. The new machine builds the package in such a way that the product gets the shock absorption directly in the box instead. The carton is in one piece, which reduces the material and becomes a more sustainable solution in an environmental way as well. The product should be completely flawless from production all the way to the end customer's home - 100% flawless product - that is the goal of the packing machine!
- The set times are minimized and completely recipe-controlled, which means that it would have a high technical availability. We would be completely unique when it comes to setup time, HMI and operator friendly as well as time for other changes. We will put ourselves at the forefront when it comes to packing. Tomas Lundberg.
NEWS
---

2020-10-08
The road towards a more sustainable kitchen front
Talking about sustainability is in many ways complicated but at the same time very simple. We always work with the next generation in mind and this leads us in our choices towards a more sustainable production and end product. This is how we manufactured our most sustainable kitchen front so far.

2020-09-21
CFO with a focus on the future
We are strengthening our team with Malin Kirejs Hellbjer, who joined us as Chief Financial Officer at Spaljisten. Malin also works at one of our sibling companies in the group, KG-list, where she has the same role.

2020-09-15
Spaljisten collaborates with TEXO in new automated logistics solutions
Spaljisten has placed orders for new automated logistics solutions for handling large volumes in the factory in Åseda and has signed an agreement with TEXO from Älmhult. Together with TEXO, we have developed very good solutions for moving large volumes internally in the factory with safety and durability in mind.

2020-09-03
Spaljisten choose Granflo Bygg AB to build a production facility
Spaljisten continues to invest in the future and now by expanding its premises from 35,000 to 41,500 sq.m. Granflo Bygg AB is entrusted with building a new modern production facility

2020-07-20
Made in Sweden from more sustainable sources
Climate-smart materials such as wood and recycled plastic creates a positive ripple effect for our environment. Our vision to "manufacture fronts of the highest quality and with the next generation in mind" pushes us to produce more sustainable fronts. PET-bottle and plastic recycling also give us the opportunity to use plastic with a reduced energy consumption.

2020-07-06
New AEO permit provides increased security for physical and digital intrusion
AEO stands for "Authorized Economic Operator" and is an EU joint permit. The purpose of the permit is to create increased security in the world, as well as to harmonise the customs administration in the EU. In the spring of 2020, Spaljisten was able to implement both AEOC - Customs simplifications and AEOS - Security and safety permit.

2020-06-24
Pressrelease: Spaljisten places a large order to Automationsteknik
Spaljisten AB places an order for two highly automated packing and palletizing solutions for 50 million SEK during the Corona crisis. Spaljisten continues to invest for the future by ordering two super-modern packing and palletizing solutions from Automationsteknik. Through these investments, Spaljisten will greatly increase its production capacity on both kitchen and wardrobe fronts

2020-06-12
We care - Spaljistens Sustainability report 2019
Spaljisten now presents the sustainability report with the combined financial report for 2019. The Sustainability Report explains our development over the past year and clarifies how we work actively with sustainability in our operations.

2020-06-01
Spaljisten and HOMAG continue their 45 years successful journey
Spaljisten has ordered a Laminating Line from HOMAG. With this investment Spaljisten will become a complete supplier of laminated boards, both as panels and ready made fronts, including the fast growing trend of fronts with integrated handles.

2020-05-29
Back at 100% production - We are looking for Head of Technology and Innovation
Spring 2020 was unique in its kind for us, and for the whole world. Corona pandemic has affected us as well as several with us. The uncertainty is noticeable how the future will develop, but we have great confidence and we continue to invest in our production!